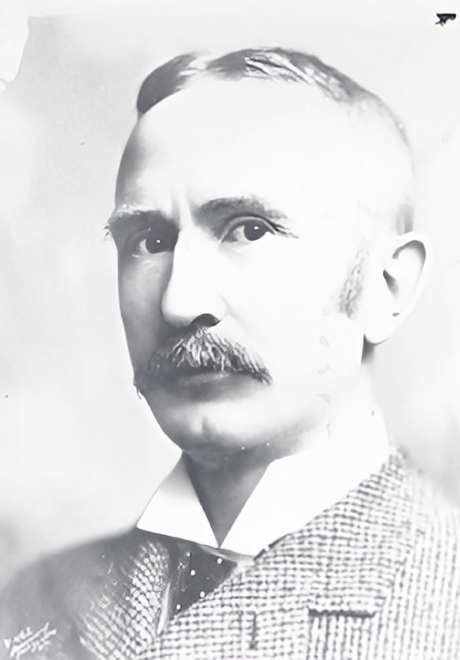 "CITY BEAUTIFUL" MOVEMENT FOUNDER
1851 – 1905
Robert Meyer was born August 20, 1851 in St. Louis, Missouri. His parents were both immigrants from Hamburg, Germany and his father was a very successful and wealthy businessman. August attended school in Europe, first in Zurich Switzerland and later he transferred to the School of Mines in Freiburg, Germany, graduating in 1872. In 1875 he started an ore-crushing mill in Alma, Colorado and struck it rich in the silver industry. He, along with Horace Tabor founded Leadville, Colorado in 1877. In 1878 he married Emma Hixon of Denver Colorado and built her a home in Leadville now known as Healy House. Healy house still stands as a museum and is listed on the National Register of Historic Places.
In 1881 August Meyer made his home in Kansas City and established the Kansas City Smelting and Refining Company in the Armourdale area of Kansas City, Kansas. Despite his young age of 30 years, Meyer quickly rose in both business and society. He was an avid outdoorsman and often escaped the city to take horseback rides in the rolling hills to the south. He was a passionate lover of natural beauty and embraced the "city beautiful movement" advocating for the addition of parks and boulevards in Kansas City.
In March of 1882 Benjamin Holmes appointed Meyer to be the first president of the Kansas City Parks Board. Holmes and Meyer worked alongside landscape architect George Kessler to make Meyer's vision a reality.
In 1896 Meyer moved his family from 2806 Independence Avenue to an eight-and-a-half acres estate designed by Van Brunt and Howe at 44th & Warwick. He named his estate Marburg and counted William Rockhill as one of his neighbors. The structure still stands on the grounds of the Kansas City Art Institute and is now known as "Vanderslice Hall."
On December 1, 1905 Meyer died at the age of 54 after developing a severe cold just a month before.
He served on the Park Board for 8 years and was responsible for negotiating with landowners to acquire Swope, Penn Valley and North Terrace Park.
In June 1909 a memorial at 10th and Paseo known as "the square" was erected in his honor. In 1910 the Park Board began planning Meyer Boulevard to honor him. At Ward Parkway and Meyer Boulevard stands one of the most notable fountains in all of Kansas City. In 1922 this circular road linking Ward Parkway and Meyer Boulevard was named "Meyer Circle." In 1924 J.C. Nichols offered to donate the fountain in the center of Meyer Circle and the 28 water sprays were turned on in 1925.
August Meyer was truly a visionary and Kansas City has him to thank for the beautiful parks and boulevards we enjoy today.
Notable Burials