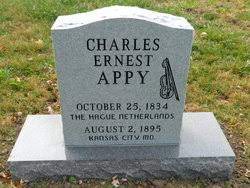 Cellist
1834 – 1895
Charles Ernest Appy was born of French parents in The Hague, Netherlands in 1834. His father was a violinist in the Royal Orchestra, so Ernest (as he was known in the Netherlands) received musical training from a very early age. His early musical training was with Richard Hol as a pianist, but he later switched to the violin, studying with Wilhelm Joseph von Wasielewski and violoncello (now known as the cello) studying with Charles Montigny, Jean Godefroid Merlen and Jacques Franco Mendes.
In 1851 he began his musical career as a soloist and ensemble player with several different orchestras throughout Europe, Scotland and London. He also taught music which brought him into contact with music greats such as Franz Liszt and Hector Berlioz. In 1843 he toured England and Scotland as a member of the Julien Orchestra and arrived in New York in 1876.
His compositions for the cello include Phantasy on a theme from "Der Freischutz", Phantasy on a theme from Robert le Diable, and Nocturne in C for Cello and Piano op2.
After a return to Europe he permanently emigrated to the United States in February of 1894. He opened a music school in Kansas City where his wife and four of his ten children joined him in 1895. Charles Ernest Appy died in August 1895, a mere 6 months after he was joined in Kansas City by his family.
Notable Burials