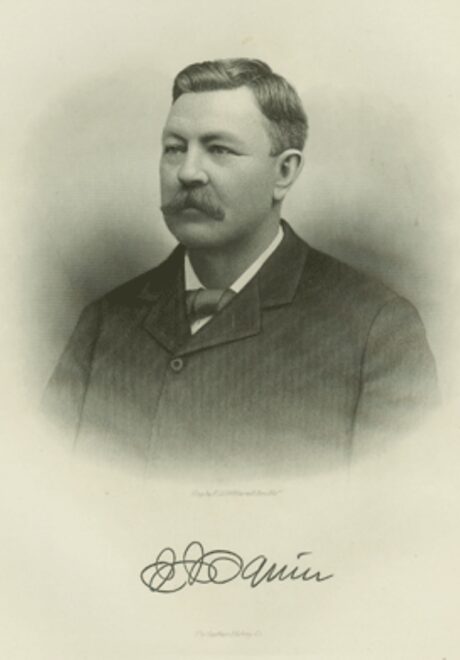 Financier, Developer, Capitalist
1836 – 1900
James Jordan "J.J" Squier, financier, developer and capitalist, was born in Pennsylvania on January 31, 1836. He began his business life at the age of 18, managing one in a chain of his father's hardware stores.   In time, he became buyer for the entire chain and then moved to Cambridge, Ohio with his father to manage a store there before moving to Chicago in 1856 to open another store.  In Chicago, J.J. Squier began a highly successful career in the cattle business. Squier was married December 16, 1861, to Miss Mary E. Stranathan, daughter of Samuel and Jane (Rannells) Stranathan; her father was a landowner, banker and lender, and left a large estate; he was a resident of Guernsey County, Ohio, where Mrs. Squier was born and educated. The Squier's had two children: a son, Albert G., who died of malarial fever at the age of eleven years, and a daughter Cora S. Squier. After their marriage, the Squier's moved to St. Louis, where for two years he made his home and managed a farm which he had purchased, about sixty miles from the city. After the death of his wife's father, in about 1867, he visited Kansas City and purchased a number of pieces of business and residence property. In October 1871, he moved to Kansas City, Missouri, entering the employment of the Fowler Packing House as a cattle buyer.  Initially residing in the Quality Hill neighborhood, he owned residences at 910 Pennsylvania and 1011 Pennsylvania.  Ten years later he purchased the family homestead, a tract of 100 acres, then about three miles south of the city, between what is now 36th & 41st Streets from Troost to Paseo. This property includes the present-day neighborhoods of Squier Park and South Hyde Park.
Squier, along with several other wealthy Kansas Citians, founded Citizens' National Bank in 1882. In 1889, he founded Interstate National Bank, of which he was president until 1897, when he retired from that position to give attention to his private interests.  He continued serving on its board until his death. This institution was established at the Stock Yards, and from the first was the financial clearing house for practically the entire livestock and packing interests of Kansas City. He was also a director in the Kansas City Cattle & Loan Company, and owner of the Abilene State Bank, at Abilene, Kansas. In all business concerns in which he engaged his judgment was highly respected, and his investments in cattle, farmlands and financial institutions were almost always profitable.  Squier was known throughout Kansas City as a banker and capitalist.
Squier took pride in the country estate he built shortly after purchasing land between 36th and 41st Streets, Troost and The Paseo, outfitting it with a suitable residence, formal landscaping, a fishpond and deer park. Squier was aware that the Kansas City limits were moving further south and east, closer to his property. Seeing an opportunity, Squier began to divide his land into lots in the hopes of creating a residential development. But by 1900 only a small number of lots had dwellings constructed upon them, mostly north of what is now 37th Street.
Mr. Squier held a commission of first lieutenant in the One Hundred and Seventy-second Regiment Ohio Volunteer Infantry during a portion of the Civil War. In politics he was a Republican. He took much interest in Masonry, and had attained the commandery degrees, being a charter member of Oriental Commandery.
James J. Squier died on August 27, 1900. The event was unexpected, although he had been in failing health for some time. The same methodical care which he observed in his business career was manifested in the provisions of his will. He left a large estate, with an estimated value of over one million dollars, which he divided between his widow and daughter in equal shares, with the exception of about $68,000 in bequests. The high esteem in which Mr. Squier was held in the community was manifested in the great assemblage of representative men who were present at the closing of a well spent life. These included the most prominent of those identified with the banking, cattle and packing interests, and manufacturing, and connected with the Masonic fraternity. Among all these his name was regarded as the synonym for the strictest integrity, and the most consummate business ability. In his personal life he was genial and companionable, and a man of wide information. In all, he combined those qualities which are so peculiarly valuable in one who is looked to as a leader in the various weighty enterprises which bring a comparatively insignificant town to the position of a city of the first importance.
The Squier monument is the tallest and one of the most prominent at Elmwood Cemetery.  It was brought to the cemetery by rail and a special spur had to be constructed to deliver it to the cemetery gates on 12th Street, getting to its final destination via carts pulled by mules.
Squier's wife, Mary, remained in the manor house, while Cora moved to the East Coast for education at Mrs. Richards' private school in Philadelphia. There she met Robert Valentine Jones, a successful residential developer, whom she married in 1902 in a ceremony at Squier Manor. The couple lived in Philadelphia before returning to Squier estate in 1908. Although most of the property had been subdivided 1887, the lots still stood empty. Inspired by the opportunity, Robert Jones formed a real estate and mortgage company, the Manheim Realty & Investment Company, in 1908. Through the company, Jones developed a new plan to subdivide the land between 37th Street and 39th Street.
Jones envisioned a cohesive neighborhood where the street layout responded to the topography of the land rather than the rigid orthogonal city grid. He wanted each house to have a unique design and to stand at the center of a spacious lot. He worked with a variety of prominent Kansas City architects, as well as builders and homeowners to design high-style dwellings throughout the subdivision. As a result, many of the homes south of 37th Street were constructed in 1909 and 1910. Construction continued steadily throughout the 1910s and into the 1920s. Many of the Manheim Realty & Investment Company homes contained such luxuries for the time as hot water heat, sleeping porches, and multiple bathrooms.
By 1920, the neighborhood was filled with architect-designed homes and the curve of Manheim Road created a triangular lot which was landscaped as a park. Numerous prominent Kansas City architects designed homes in Squier Park, including Louis Curtiss, John McKecknie, Nelle E. Peters, Selby Kerfiss, and Smith, Rea & Lovitt. The wide variety of high-style designs in Squier Park illustrates the wealth of architectural styles popular in the early twentieth century and Jones' requirement that each house have a unique design. The predominantly single-family residential neighborhood contains multiple-family dwellings, educational facilities, and a small-scale commercial building integrated into the development. Because of the neighborhood's development along city streetcar lines, Squier Park was considered an early "streetcar suburb".
In 1925, Robert and Cora Jones divorced, selling the remainder of the property on which the original Squier Manor stood. The new owner demolished the residence that same year in preparation for developing the entire lot as "Squier Manor Community Center" which was to include apartment buildings, a row of businesses, a theater, and a hotel. This development never materialized and the block was subdivided in 1930 for residential development. In 1940, Bishop Lillis High School was constructed on the southeast quarter of the block. Ultimately, Jones' vision of a comprehensive cultural landscape was fully realized by the beginning of World War II.[1]
Notable Burials