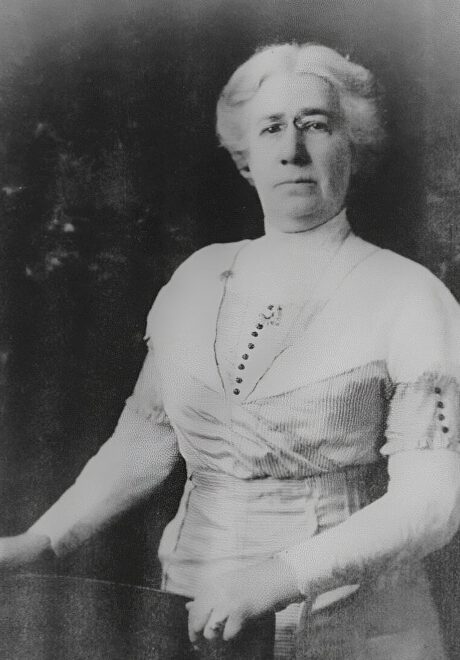 Famous Kansas City "Madam"
1843 – 1935
Leannah Loveall was born near Lexington, Kentucky in 1843. She became estranged from her pro-Confederate father by participating in a parade honoring Abraham Lincoln. Shortly afterward, she became a schoolteacher and married an older man named William Chambers. Her early married life was marked with tragedies: the loss of the couple's first child; an unexpected coma during her second pregnancy, which resulted in a stillbirth; and upon awakening from the coma, she found her husband had been killed in a horse and buggy accident.
Distraught with grief, she moved to Indianapolis and turned to a life of prostitution working under the name Annie Chambers. Her engagement to a former client ended when she found that the client was already married. She relocated to Kansas City where she hoped her trade would be better tolerated.
Kansas City turned out to be the perfect place for Annie Chambers. In the 1870s there were businessmen, missionaries, railroad workers, cattlemen, and westward migrants. Young, unmarried men largely outnumbered women. She established a brothel north of the Missouri river and within two years was successful enough to acquire an elegant 25-room mansion in the red-light district (in what is today's City Market). Chambers became quite wealthy and avoided police intrusion through a steady stream of bribes and fines.
Chambers was proud of the fact that she provided a lucrative future for the destitute young women who worked for her. She referred to her brothel as a "resort" and charged up to $10.00 – half of which was retained by her prostitutes. Other establishments charged as little as $0.25 but didn't have the luxury or privacy afforded by Chambers' brothel.
In 1923 Chambers reformed her life and turned to Christianity. Afterward, her brothel became a legitimate boarding house. The remaining years of her life were spent lecturing against the evils of sin, though she never addressed or denounced her own past.
After her death in 1935, her mansion was used as part of the City Union Mission but was eventually razed in 1946.
Notable Burials